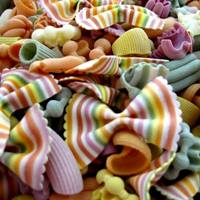 Our Marella Colorful Pastas
Marella organic, colorful pasta is first and foremost an art form. Like their white pastas, they start with traditional artisan methods using premium local wheat blends, bronze die extrusion and slow air drying methods to produce an extraordinary, award-winning pasta that is as delicious as it is beautiful. Affectionately called rainbow pasta, the myriad of beautiful, natural colors are derived solely from vegetable sources such as tumeric, carrots, spinach, tomatoes, beets and red peppers. A variety of artisanal, labor-intensive methods create shapes including bowties, roses, linguine and "Mother-In-Law" tongues.

Our best-selling "Monnezzaglia" (or leftovers) tells the story of the Italian family with "leftover" pasta shapes from the week's family meals. Each box represents a unique collection of shapes that honor this tradition.

Italian Harvest has been importing Marella pasta since 2000 and are the first to introduce it to the Western United States. We proudly continue to expand our line of Marella pastas as new cuts are created. Learn more by clicking here for an interview with Antonio Marella.

* Marella Pasta imported by Italian Harvest is a 2013 Silver sofi Award Winner for "Outstanding Product Line".
* All Marella pastas imported by Italian Harvest are certified organic by the ICEA institution.